Oportun Announces New Spanish-Language Capability and Improved Savings Features in Ongoing Commitment to Financial Inclusion
SAN CARLOS, Calif., Oct. 23, 2023 (GLOBE NEWSWIRE) -- Oportun is a mission-driven fintech that puts the financial goals of its 2 million members within reach. Today, Oportun announced that it has launched the Spanish-language version of its #1 rated savings app, according to Bankrate. This release also includes the addition of improved savings features, giving members a more seamless product experience with more options on how the app saves for them.

"Oportun is committed to providing inclusive and affordable financial services that give members control over their money and confidence about their financial future," said Gonzalo Palacio, Oportun's Chief Marketing Officer. "We are always listening to the needs of our members, and offering the full capabilities of our app in Spanish will help Oportun to meet more of our members wherever they are on their financial journey."
Among Oportun's members, more than 30% have indicated a preference for service in Spanish. With the latest updates, Oportun is expanding access to its best-in-class savings app to help members make progress towards saving money, along with providing affordable credit when they need it.
The following updates are now available for all savings members:
Spanish-Language Capability: Members who have selected Spanish as the default language on their phone will be able to experience the app's full capabilities in their native language.
Improved Algorithm Controls: Members have more control over the savings algorithm's behavior, allowing them to:

Pause all savings across all goals
Set a maximum transfer amount across all goals
Set a "safe saving level" or a minimum checking balance after which the algorithm stops saving

Recurring Savings Goals: Members can create goals that repeat for recurring expenses.
Updated Daily Savings Breakdown: Members can see how their savings are allocated across goals.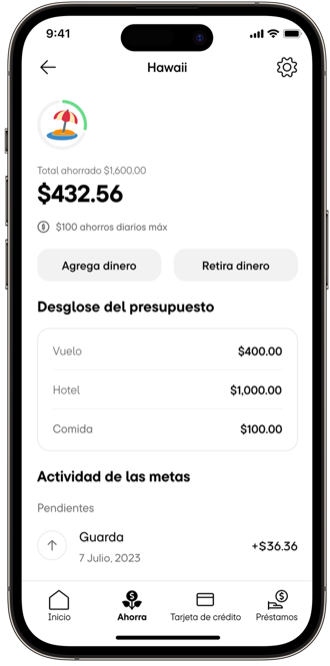 Oportun is free to download and manage a personal loan. The savings tools are free for 30 days and $5 per month thereafter. The app is available for download today on Apple and Android devices.
About Oportun
Oportun (Nasdaq: OPRT) is a mission-driven fintech that puts its 2 million members' financial goals within reach. With intelligent borrowing, savings, and budgeting capabilities, Oportun empowers members with the confidence to build a better financial future. Since inception, Oportun has provided more than $16.6 billion in responsible and affordable credit, saved its members more than $2.4 billion in interest and fees, and helped its members save an average of more than $1,800 annually. For more information, visit Oportun.com.
For Oportun:
Usher Lieberman
[email protected]
650-769-9414
Photos accompanying this announcement are available at
https://www.globenewswire.com/NewsRoom/AttachmentNg/50ebd937-4cd4-4cd1-a476-2db902a4019b
https://www.globenewswire.com/NewsRoom/AttachmentNg/158ae858-a526-4e48-997c-aa2144b6b63a


Source: Oportun Financial Corporation

Released October 23, 2023